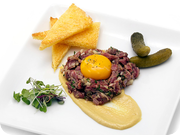 Beef Carpaccio can be pounded out or alternately, it may be frozen and thinly sliced. Make sure to remove fat and any of the silver skin that may be on the beef. Use the flat side of a meat mallet to pound the meat thinly. Short rib can be used to make steak tartare, although the traditional cut is top round. Make sure that the meat used is fresh and trim it of all fat and skin. The knife must be kept sharp; steel when necessary. Remember, you want to taste the meat; there is no need to over-season.
CJ Jacobsen (Season 3)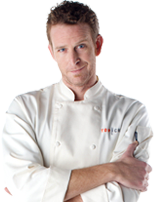 A true Californian at heart, CJ is a private chef who has worked for the likes of author and columnist Arianna Huffington and the Marciano Family of the Guess Corporation. An ex-volleyball player standing at 6'8" -- it seems everyone looks up to him. CJ is motivated to live life to the fullest having overcome testicular cancer. He has a competitive spirit and the utmost confidence in his culinary skills.