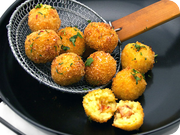 Translated from the Italian, "arancini" means "little fried rice balls." That's exactly what this elegant little hors d'oeuvre is - and we've given ours a Spanish twist. For your risotto, we recommend using arborio rice - its high starch will make a creamier risotto. When adding your rice to your stock, be sure to fully coat it with the mixture for an even distribution of flavors. Throughout, keep stirring - you don't want your risotto to stick. When frying your breaded arancini, be careful not to crowed them into the pan. This would lower the oil temperature, leading to imperfect results. Not ready to serve immediately? Then keep your arancinis in a 300F oven to keep them warm and crisp.
Richard Blais (Season 4)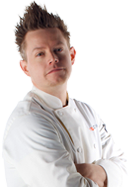 Richard is not only a chef, but also a culinary designer, working all over the east coast. He and his wife reside in Atlanta, Georgia with their two weimaraners and are expecting their first child in the spring. He is known for his innovative and personal take on classical cuisine and has studied under luminaries such as Thomas Keller, Daniel Boulud, and Ferran Adria. Richard believes cooking is an art and a craft and food is meant to stimulate on many levels. He incorporates global ingredients, modern cooking methods, wit and a sense of humor to all his food. He says if he were a food he would be an artichoke. "It's tough, difficult to work with, even dangerous at its core; but when you come down to it, it's simple, beautiful and delicious."