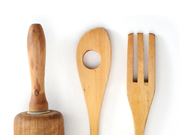 Of the many kitchen gadgets on the market, here are your essentials: a cutting board (choose plastic or wooden, just use a separate one for raw meet and seafood versus cooked food and veggies), large metal spoons, wooden spoons, tongs, rubber and slotted spatulas, ladles, a spider (a strainer for fried foods or poaching), a vegetable peeler (also good for shaving parmesan cheese or chocolate), potato masher, box grater, sieves and a balloon whisk (used for whipping cream or making vinaigrettes). For more specific tools, consider a mandolin (for thinly slicing ingredients into paper-like sheets), a microplane (another great tool for fine finishes) and a potato ricer (the secret to getting super-smooth, restaurant-quality mashed potatoes).
Carla Hall (Season 5)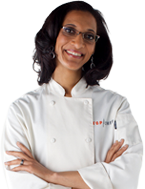 Carla is the chef and owner of Alchemy Caterers in Washington, D.C. Her food balances the heart and soul of the South and the refinement of her classic French training. She enjoys creating memorable comfort dishes with fresh, seasonal and local ingredients. Carla approaches each event as an opportunity to make a connection with the client and to change the way they experience food. She always has good European butter, Couverture chocolate, bacon, heavy cream, olive oil - pomace and extra virgin - on hand and pies are one of her favorite things to make.