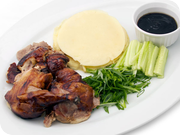 Crispy skin is the key to a perfect Peking Duck. Boiling the duck in highly salted water is essential - followed by a dry brine. Once the duck dries overnight (uncovered) in the fridge, you've prepped for the perfect skin. We've paired our duck with pancakes, cucumber salad and hoisin sauce. For the sauce, be sure to whisk in some of the duck fat from your cooked duck.
Brian Malarkey (Season 3)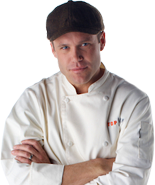 A native of Oregon, Brian grew up inspired by his grandmother's cooking and by all the fresh seafood and produce the area offered. He soon set his sights on California, where he was recently voted 2007 Best Chef in San Diego for his work as Executive Chef at the Oceanaire Seafood Room. He's in constant competition with everyone in San Diego and makes it a point to do everything bigger and better in his restaurant. At the top of his game, Brian's high-energy makes him a whirlwind in the kitchen. Stay-tuned to see just how long he can live by his motto, "Love, peace and happiness."