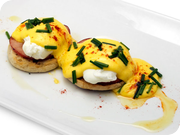 Though poaching eggs can be tricky, Eggs Benedict makes it all worthwhile. The recipe on the next tab features an entire step-by-step, but here are a few helpful hints: When poaching eggs, always use fresh ones. Add a splash of vinegar to the water to help the egg coagulate. And crack the egg in a small bowl first so the yolk is less likely to break in your poaching water.
CJ Jacobsen (Season 3)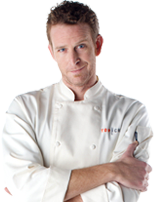 A true Californian at heart, CJ is a private chef who has worked for the likes of author and columnist Arianna Huffington and the Marciano Family of the Guess Corporation. An ex-volleyball player standing at 6'8" -- it seems everyone looks up to him. CJ is motivated to live life to the fullest having overcome testicular cancer. He has a competitive spirit and the utmost confidence in his culinary skills.