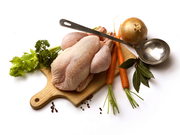 For a fish stock, or fumet, start by soaking white-fleshed fish bones in ice water. Then sweat onions and fennel in a pan with butter. Add some white wine, followed by the fish bones. Be careful not to brown. Simmer for 30 minutes. For a roasted stock, toss bones in olive oils and a little tomato paste and place on a sheet pan in the oven. Stir occasionally. Cook for 30 minutes at 400 degrees Fahrenheit. Put in a pot with cold water, careful to deglaze to get all the flavor left on the pan into the pot. Scrape the bottom of the pan to get additional flavors as well. From here, simmer and prepare like a basic stock.
Spike Mendelsohn (Season 4)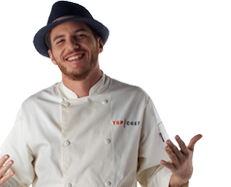 Spike works as the chef de cuisine at Tribeca's new hotspot restaurant, Mai House, owned by the renowned restaurateur Drew Nieporent. Mai House was named as one of the New York Times' top ten best new restaurants of 2007. Born in Montreal, Canada and trained in classic French cuisine in restaurants around the world. Spike has worked with Gerard Boyer at Les Crayeres, Thomas Keller at Bouchon and The Maccioni Family at Le Cirque. Spike believes in learning the basics to become the best. His latest venture is opening a new chain, Good Stuff Eatery, with his family (first location opening in Washington D.C. later this year) The new restaurant features his weaknesses -- hamburgers, hot dogs, fries and milkshakes.