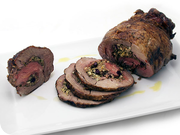 There's no need to be intimidated by the thought of roasting a leg of lamb. Once you've learned to handle it properly you'll be more likely to prepare variations of recipes that use this cut. Garlic and rosemary are terrific flavor enhancers to lamb. Before you place the lamb in the oven, include a variety of vegetables to be served with the meal. Allow the roast to rest before carving.
CJ Jacobsen (Season 3)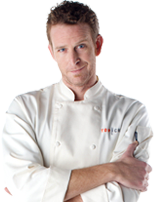 A true Californian at heart, CJ is a private chef who has worked for the likes of author and columnist Arianna Huffington and the Marciano Family of the Guess Corporation. An ex-volleyball player standing at 6'8" -- it seems everyone looks up to him. CJ is motivated to live life to the fullest having overcome testicular cancer. He has a competitive spirit and the utmost confidence in his culinary skills.