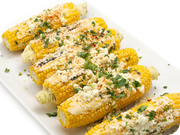 Grilling veggies yields a delicious smoky flavor and a rich, caramelized texture. Size is important - if they're too small, they'll fall through the grates of your grill. If they're too big, they'll probably burn before the center gets done. And if the sizes are inconsistent, you'll have varying degrees of doneness. Always oil your veggies when grilling to keep from sticking and to preserve moisture. Add lemon zest, garlic and spices to your oil for more flavor. Cook the larger ingredients first because the take longer. And to get those professional grill marks, press the vegetable gently and let it sit in place without moving it. After you remove the vegetables, baste them with infused oil while still warm for additional flavor.
Ariane Duarte (Season 5)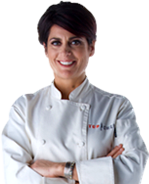 Ariane is the chef/owner of CulinAriane, a four-star restaurant located in Montclair, N.J. She was inspired to cook at a young age by her grandmothers. After graduating from the Culinary Institute of America, she worked at some of the best restaurants in the country before she and her husband, Michael, opened CulinAriane. While much of her time is spent at her restaurant, she loves spending time with her daughters, especially at the beach. She also enjoys entertaining for family and friends. Her strong belief is that anything can be fixed and to keep smiling.